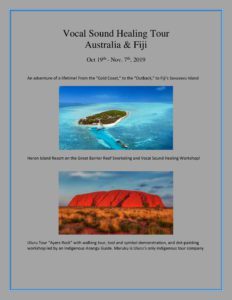 Experience Healing Vocal Resonance & Release with Master Vocal Sound Healer Gwendolyn!
Commune with Australian Outback & Wild Coastal Energies on Australian & Fijian Soil!
I am so excited to offer this inaugural Vocal Sound Healing excursion to Australia & Fiji Ireland this Fall!
We will arrive in Sydney, explore the famous waterfalls of Lamington National Park, experience the amazing Heron Island Resort of the Great Barrier Reef and swim with the Turtles! We journey deep into the Australian Outback for an Anangu Indigenous Tour around the world famous Uluru/Ayers Rock, and participate in a dot-painting workshop! We journey to Fiji's Savusavu Island and stay our very own estate with a 10-bedroom house, infinity pool, with pineapples, bananas, and mangos in our backyard! This will be a journey of a lifetime. And each day you experience a vocal sound healing meditation for peace, grounding, expansion, and creative expression.
Registration: 
$5,750. per person sharing/ $8,450. Single Occupancy Full Price by August 15th unless prior arrangements are made.
These prices include most breakfasts, all transportation within Australia & Fiji, the Aboriginal tour/dot-painting workshop, and the Heron Island 3-day vocal sound healing retreat.  Activities other than Gwendolyn's you choose to partake in such as fishing or anything not listed on the program will be at your own cost. You are responsible for your own airfare to Sydney, and from Brisbane to the USA stopping for the 5 days at Fiji's Nadi Int'l airport.
In her 30th year as a Vocal Sound Healer, Contact Gwendolyn for info or to register: Gwendolyn@vocalsoundhealer.com