Vocal Sound Healing Workshops and Private Sessions
Workshops: In the Vocal Sound Healing Journey, you are guided lovingly, slowly, and safely to feel your Being via your Heart, Breath, and Body. You are gently led to ground into the Earth, and then connect to and "Birth" the voice of your soul. In this unique process, you enter your own "River of Sound," and release your deepest longings, desires, joys, sorrows, angers, dreams and visions. Gwendolyn believes we all know how to use our Voices to heal at physical, mental, emotional and spiritual levels, as all indigenous tribes have always done so.
Private Sessions: Experience the profoundly transformative style of healing work Gwendolyn created in 1990! Her loving work incorporates gentle touch, transmission of Vocal Sound directly onto and around your body, guided heart/belly breathing, channeled singing just for you, using your own voice as a healing tool, and guided contact with the inner world of your Psyche. Gwendolyn's gentle, loving, yet powerful method allows you to connect with your Heart, raise your Vibrational Frequency from any pain and density to unconditional Love, and bring Acceptance to your life.  Each session is a completely unique process, resulting in healing at physical, mental, emotional, & spiritual levels.   3 Settings: Indoor Session, Skype/Zoom/Phone Session, Wilderness/Outdoor Session
Learn More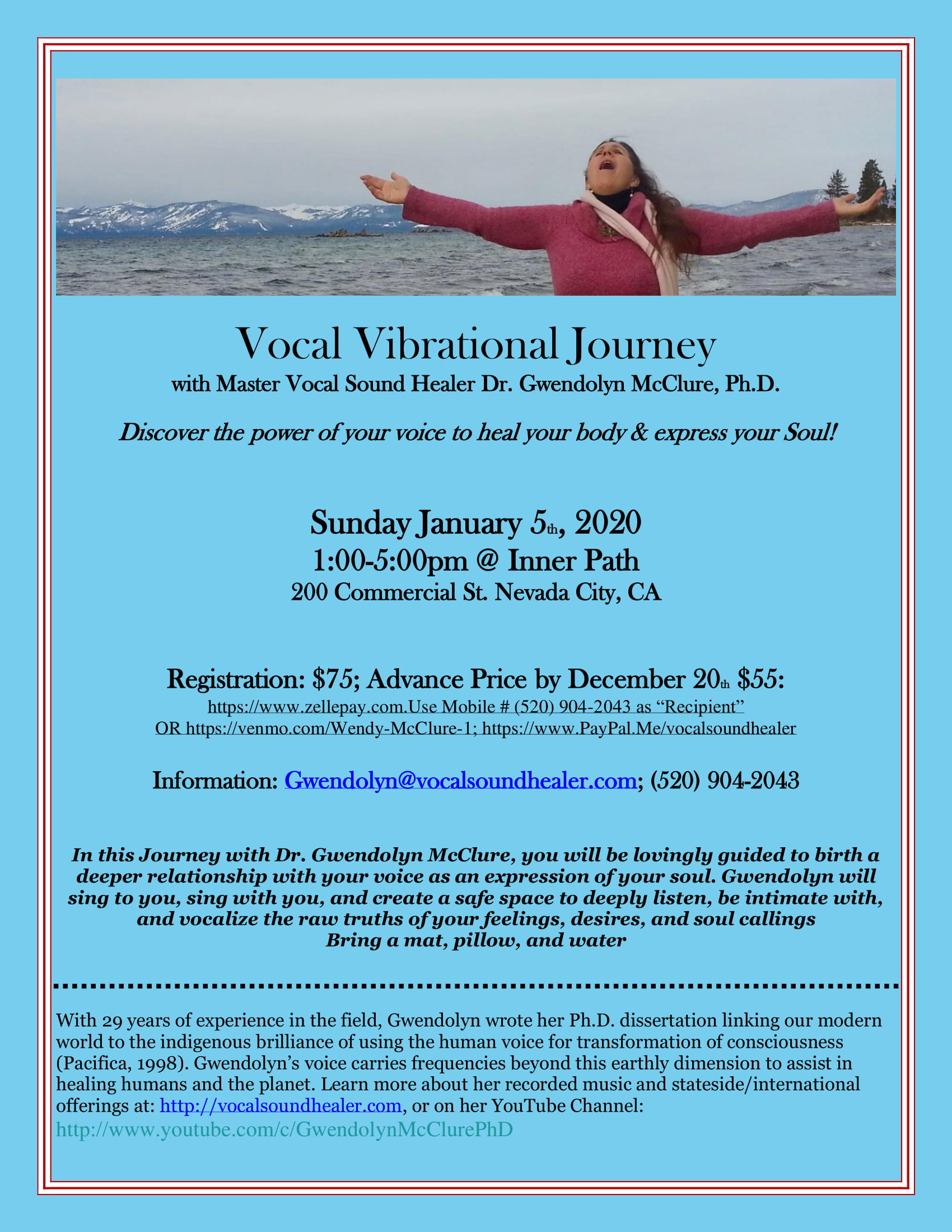 New Year's Vocal Journey January 5th, 2020 Nevada City, CA
Come to a New Year's Vocal Release Journey to start your New Year with CLEARING at emotional, physical, & spiritual levels!
Join us for an afternoon workshop 1-5 pm at Inner Path at 200 Commercial St. in Nevada City CA for this healing & transformational workshop led by Master Vocal Sound Healer Dr. Gwendolyn McClure, Ph.D. Gwendolyn wrote the first doctoral dissertation in the world on Vocal Sound Healing (Pacifica, 1998) You can request an electronic copy by emailing her with this direct request @ Gwendolyn@VocalSoundHealer.com.
Expect the unexpected in Gwendolyn's workshops. She follows her intuition and every workshop is different. What you can expect is Vocal Sound Release, Love, Compassion, Relaxing, Letting Go, and Singing!
Please bring a mat, blanket, pillow, and water. The Workshop Registration Fee is $75. By registering no later than December 20th, 2019, you get in on the early-bird price of $55. You can register for this workshop via Zelle, Venmo, PayPal, or check/cash at Inner Path. See details below.
Come enjoy a beautiful healing experience!
With Love to Us All,
Gwendolyn
(520) 904-2043
Gwendolyn@vocalsoundhealer.com
NEW YEAR VOCAL JOURNEY 1/5/20
REGISTRATION DETAILS:
$75 Fee to REGISTER FOR THIS EVENT.
Advance Price by 12/20: $55.
ZELLE: http://www.zellepay.com; ID: (520) 904-2043
VENMO: http://@Wendy-McClure-1
PayPal: https://www.PayPal.Me/vocalsoundhealer
Cash/Check: 200 Commercial St. Nevada City, CA 95959
COMING HOME: CELTIC ISLES SACRED SITES TOUR JUNE 1-15, 2020
Join us for this Vocal Sound Healing & Forgiveness Celtic Lands Tour. Join Gwendolyn in 2020 for her 2nd Sacred Sites Tour of Ireland and Scotland joined by co-leader & Forgiveness Expert Eileen Barker, J.D.
This tour will be filled with song, ceremony, and healing circles of forgiveness led by both Gwendolyn and Eileen. We travel to amazing Sacred Site Locations to create magic, music, and transformation with Mother Earth & Ancient Civilizations!
Starting in Bray just outside of Dublin Ireland on the morning of June 1st, we visit Sacred Stone Circles such as Timahoe Tower on the way to Killarney, then travel to Killarney region and to the Kenmare Stone Circle & Innisfallen Island. From there we journey to the famous Poulna brone Dolmen of the Burren (Birthplace of John O'Donohue), then on to the Sacred Umbilicus of Ireland for a private tour with Marty Mulligan at Hill of Uisneach, and finishing Ireland with the incredible Giants Causeway of Boyne Valley (Game of Thrones region) & Belfast.
The second half of the tour occurs as we traverse over the Irish Sea from Belfast, Ireland to Cairnryan, Scotland on a luxury Ferry line. Once in Scotland we take a boat tour of the amazing and history-laden Loch Lomond, visit Glasgow, and then ferry over to the Outer Hebrides. We explore the Isle of Skye and the Isle of Lewis, lodging on the Isle of Lewis for 2 nights. We visit what is known as the Crown Jewels of Sacred Sites on the Isle of Lewis called the Callanish Standing Stones (pictured on this Event page). The Tour continues as we ferry back to the North of Scottish mainland landing at Ullapool, where travel to Inverness & the Scottish Highlands (Outlander Region), visit the phenomenal and magical Findhorn Community. After a couple of nights in the Highlands, we travel on to Edinburgh and surrounding healing sites such as the Roslyn Chapel (seen in the film The Da Vinci Code).
The trip begins in Bray, Ireland outside Dublin the morning of June 1st, and ends in Edinburgh the morning of June 15th.
POST- TOUR BONUS TRIP OPTION: You will have the option of adding on a 4-day Bonus Trip to the exquisite Stonehenge, Glastonbury, and Avesbury from June 17th-21st.  This bonus tour will include a sunrise summer solstice ceremony at Stonehenge. The details and price of this option will be posted soon.
You are responsible for your roundtrip airfare for this trip. It is suggested that you arrive in Bray just outside of Dublin on May 31st to prepare for the Tour which starts in Bray in the morning of June 1st.  The Tour Bus departs Monday at 8:30am from The Royal Hotel in Bray for the start of the Tour.
All Lodging, Guided Tours,  Bus Transportation, and Daily Breakfasts are included in the tour price. A couple of group dinners will be provided as well. You are responsible for other meals, Tips for services (such as bus driver and Innisfallen Boat tour guide), and your Trip Travel & Medical Insurance which can be purchased when you purchase your plane ticket. The Irish airline Aer Lingus is recommended: The meals and service are good, and if you book early enough, the prices are fantastic!
The Double Occupancy price for the 2-week Celtic Sacred Sites Tour is $3875 & Single Occupancy is $4985. Early Bird pricing is $400 off if registered with a $500 deposit by 1/30/20. All fees are non-refundable unless Tour is cancelled.
Contact Gwendolyn for questions or to register: (520) 904-2043; Gwendolyn@vocalsoundhealer.com. Register today using Venmo, Zelle, or Paypal. Or just send your full registration or deposit to one of the payment options below.
ZELLE: www.zellepay.com; USE ID #: (520) 904-2043
VENMO: https://venmo.com/ USE: @Wendy-McClure-1                                                                            PayPal: https://www.PayPal.Me/vocalsoundhealer
Check out Facebook Event post here: https://www.facebook.com/events/554719918599681/
Register w/ https://www.zellepay.com for this Vocal Sound Healing Experience in Ireland! Use Mobile # (520) 904-2043 as "Recipient". If your bank does not use Zellepay, you can send the Registration Fee via Venmo: https://venmo.com; Use ID info: @Wendy-McClure-1; Or, Send a Check to: Dr. Gwendolyn McClure 2036 Nevada City Hwy #605 Grass Valley CA 95945
Album: Lullabies For The Heart:
Release Date: April 2017
Gwendolyn's second album offers a compilation of sweet and soothing Traditional & Contemporary Lullabies from around the world (all translated into English). Gwendolyn's Mother & Father sang most of these songs to her while going to sleep as a child. There are also a handful of contemporary Lullabies from artists in the U.S. & Canada. These magical & historical Songs will put your children & grandchildren to sleep, and will soothe the soul of your Adult Self & your Inner Child!
Genre: Traditional Folk; Kids & Family Lullabies
Release Date: 2017
Learn More
Album: Songs for the Earth:
Gwendolyn's debut album is filled with songs of Love and Healing, and profound connection to Nature. As you listen, you will absorb the vibrations of Unconditional Love beaming through Gwendolyn's lyrical voice, and will be soothed and inspired.
Genre: 
New Age: Energy Healing
Release Date: 2014
Learn More
Dr. Gwendolyn McClure, Vocal Sound Healing Practitioner,
Ph.D. Clinical Psychology
Gwendolyn has been in practice as a Vocal Sound Healer since 1990. Vocal Sound Healing is the passive and active use of vocal sound and singing for healing and transformation of consciousness. She wrote the first doctoral dissertation in the world on this topic. Through Heart, Intuition, and Mind, Gwendolyn shares her Songs and Vocal Sounds, transmitting the vibrational frequency of unconditional love to awaken and inspire people to commit to their healing journey in this body in this lifetime! She created techniques to guide people to "Activate" their Voice as a Self-Healing Tool. Gwendolyn wrote her doctoral dissertation on her work: "A Cross-Cultural Interdisciplinary Study of the Healing Power of Singing & Vocal Sounding" (Pacifica 1998), and shares her Gifts in the form of Albums, Concerts, Workshops & Private sessions in and outside the U.S. Gwendolyn has presented in CA, AZ, ID, MI, NY, OR, WA, OH, NV, NM, Mexico, Ireland, Scotland, Australia, & Fiji!
https://www.facebook.com/vocalsoundhealer/
http://www.cdbaby.com/cd/gwendolyn1
http://www.cdbaby.com/cd/gwendolynlullabies
http://www.youtube.com/c/GwendolynMcClurePhD
Gwendolyn@vocalsoundhealer.com
https://www.PayPal.Me/vocalsoundhealer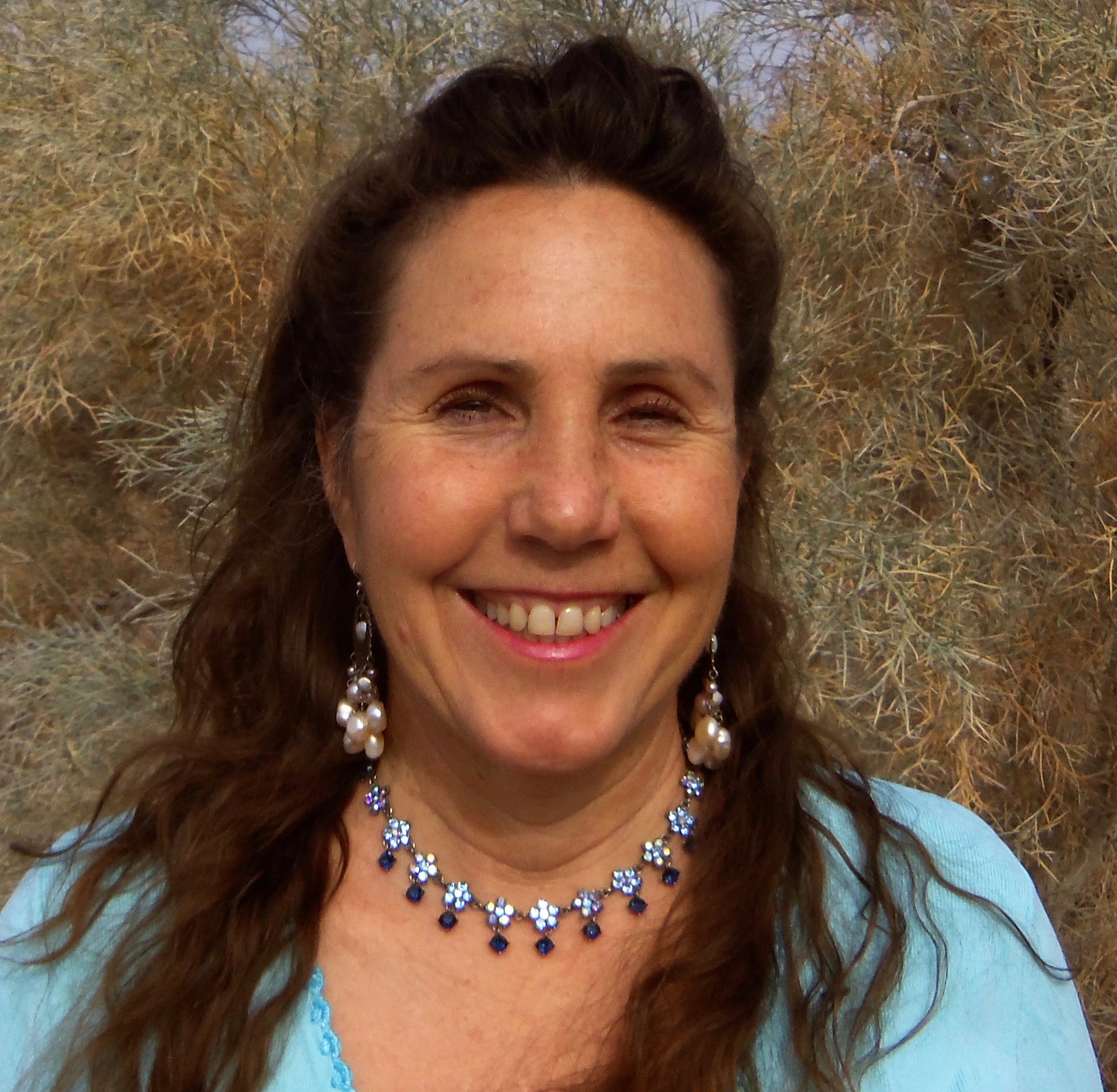 Register: Vocal Sound Touch Healing Private Session
Schedule a private session now: gwendolyn@vocalsoundhealer.com, or text/call: (520) 904-2043