Vocal Sound Healing Workshops and Private Sessions
Workshops: In the Vocal Sound Healing Journey, you are guided lovingly, slowly, and safely to feel your Being via your Heart, Breath, and Body. You are gently led to ground into the Earth, and then connect to and "Birth" the voice of your soul. In this unique process, you enter your own "River of Sound," and release your deepest longings, desires, joys, sorrows, angers, dreams and visions. Gwendolyn believes we all know how to use our Voices to heal at physical, mental, emotional and spiritual levels, as all indigenous tribes have always done so.
Private Sessions: Experience the profoundly transformative style of healing work Gwendolyn created in 1990! Her loving work incorporates gentle touch, transmission of Vocal Sound directly onto and around your body, guided heart/belly breathing, channeled singing just for you, using your own voice as a healing tool, and guided contact with the inner world of your Psyche. Gwendolyn's gentle, loving, yet powerful method allows you to connect with your Heart, raise your Vibrational Frequency from any pain and density to unconditional Love, and bring Acceptance to your life.  Each session is a completely unique process, resulting in healing at physical, mental, emotional, & spiritual levels.   3 Settings: Indoor Session, Skype/Zoom/Phone Session, Wilderness/Outdoor Session
Learn More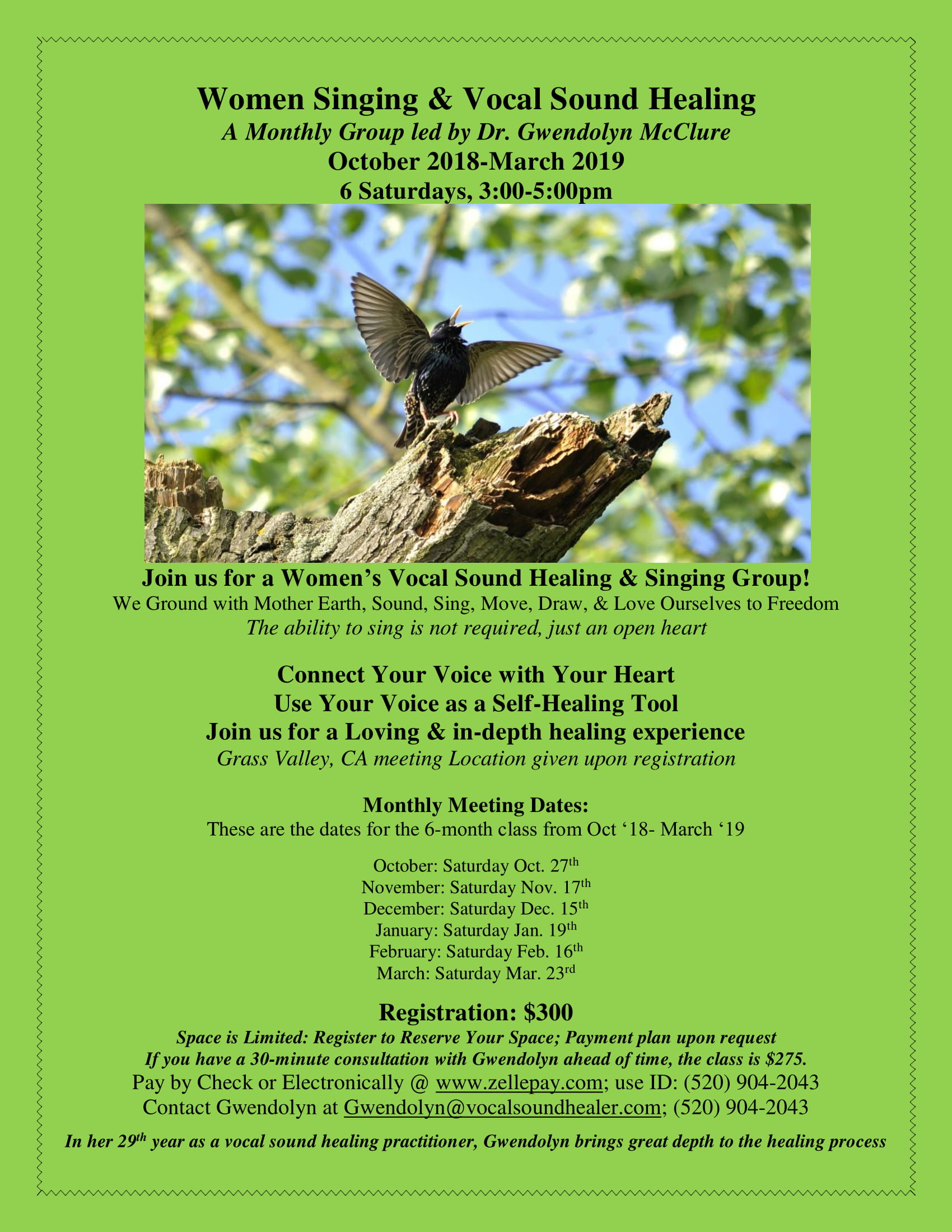 Upcoming Events
Women Singing & Vocal Sound Healing
A Monthly Group led by Dr. Gwendolyn McClure
October 2018-March 2019
6 Saturdays, 3:00-5:00pm
Join us for a women's vocal sound healing & singing group
Open to your Heart, your Mystical Multi-dimensional self, and the Ground of Mother Earth
The ability to sing is not required; just an open heart
We will sound, sing, move, and draw together as healing women to create enormous change!
In her 29th year as a vocal sound healer, Gwendolyn is very excited to offer this 6-month women's transformational group to create magic and healing for all!
Monthly Meeting Dates:
October: Saturday Oct. 27th
November: Saturday Nov. 17th
December: Saturday Dec. 15th
January: Saturday Jan. 19th
February: Saturday Feb. 16th
March: Saturday Mar. 23rd
You will experience both passive and active vocal sound healing. Passive vocal sound healing is when you experience Gwendolyn singing and making vocal sounds to bring in the frequencies of pure love and light. Active vocal sound healing is when you soften your throat, connect your throat to your heart, and activate your voice to become a tool for clearing & strengthening your spirit and body.
Registration for this 6-Month Group is: $300.
Space is Limited. To Reserve Your Space: Register in Advance. Payment plan available upon request. Discount when you set up a 30-min consultation with Gwendolyn in advance of the class.
Contact Gwendolyn with any questions, or if you desire to have discounted Private Sessions with her while you are enrolled in this group: Gwendolyn@vocalsoundhealer.com;     (520) 904-2043
In her 29thyear as a vocal sound healing practitioner, Gwendolyn brings great depth to the healing process
Register by Check or Electronically using these options: 1) https://www.zellepay.com use ID#: (520) 904-2043; it is listed under my legal first name "Wendy" McClure 2) If your bank does not use Zellepay, send the Registration Fee electronically via Venmo: https://venmo.com Use ID info: @Wendy-McClure-1. 3) If registering via a check, please send to Dr. Gwendolyn McClure 2036 Nevada City Hwy. #605 Grass Valley, CA 95945
Album: Lullabies For The Heart:
Release Date: April 2017
Gwendolyn's second album offers a compilation of sweet and soothing Traditional & Contemporary Lullabies from around the world (all translated into English). Gwendolyn's Mother & Father sang most of these songs to her while going to sleep as a child. There are also a handful of contemporary Lullabies from artists in the U.S. & Canada. These magical & historical Songs will put your children & grandchildren to sleep, and will soothe the soul of your Adult Self & your Inner Child!
Genre: Traditional Folk; Kids & Family Lullabies
Release Date: 2017
Learn More
Album: Songs for the Earth:
Gwendolyn's debut album is filled with songs of Love and Healing, and profound connection to Nature. As you listen, you will absorb the vibrations of Unconditional Love beaming through Gwendolyn's lyrical voice, and will be soothed and inspired.
Genre: 
New Age: Energy Healing
Release Date: 2014
Learn More
Dr. Gwendolyn McClure, Vocal Sound Healing Practitioner,
Ph.D. Clinical Psychology
Gwendolyn has 29 years of experience in Vocal Sound Healing: the passive and active use of vocal sound and singing for healing and transformation of consciousness. Through Heart, Intuition, and Mind, Gwendolyn shares her Songs and Vocal Sounds, transmitting the vibrational frequency of unconditional love to awaken and inspire people to commit to their healing journey in this body in this lifetime! She created techniques to guide people to "Activate" their Voice as a Self-Healing Tool. Gwendolyn wrote her doctoral dissertation on her work: "A Cross-Cultural Interdisciplinary Study of the Healing Power of Singing & Vocal Sounding" (Pacifica 1998), and shares her Gifts in the form of Albums, Concerts, Workshops & Private sessions in and outside the U.S. Gwendolyn has presented in CA, AZ, MI, NY, OR, WA, OH, NV, & Mexico!
https://www.facebook.com/vocalsoundhealer/
http://www.cdbaby.com/cd/gwendolyn1
http://www.cdbaby.com/cd/gwendolynlullabies
http://www.youtube.com/c/GwendolynMcClurePhD
Gwendolyn@vocalsoundhealer.com
https://www.PayPal.Me/vocalsoundhealer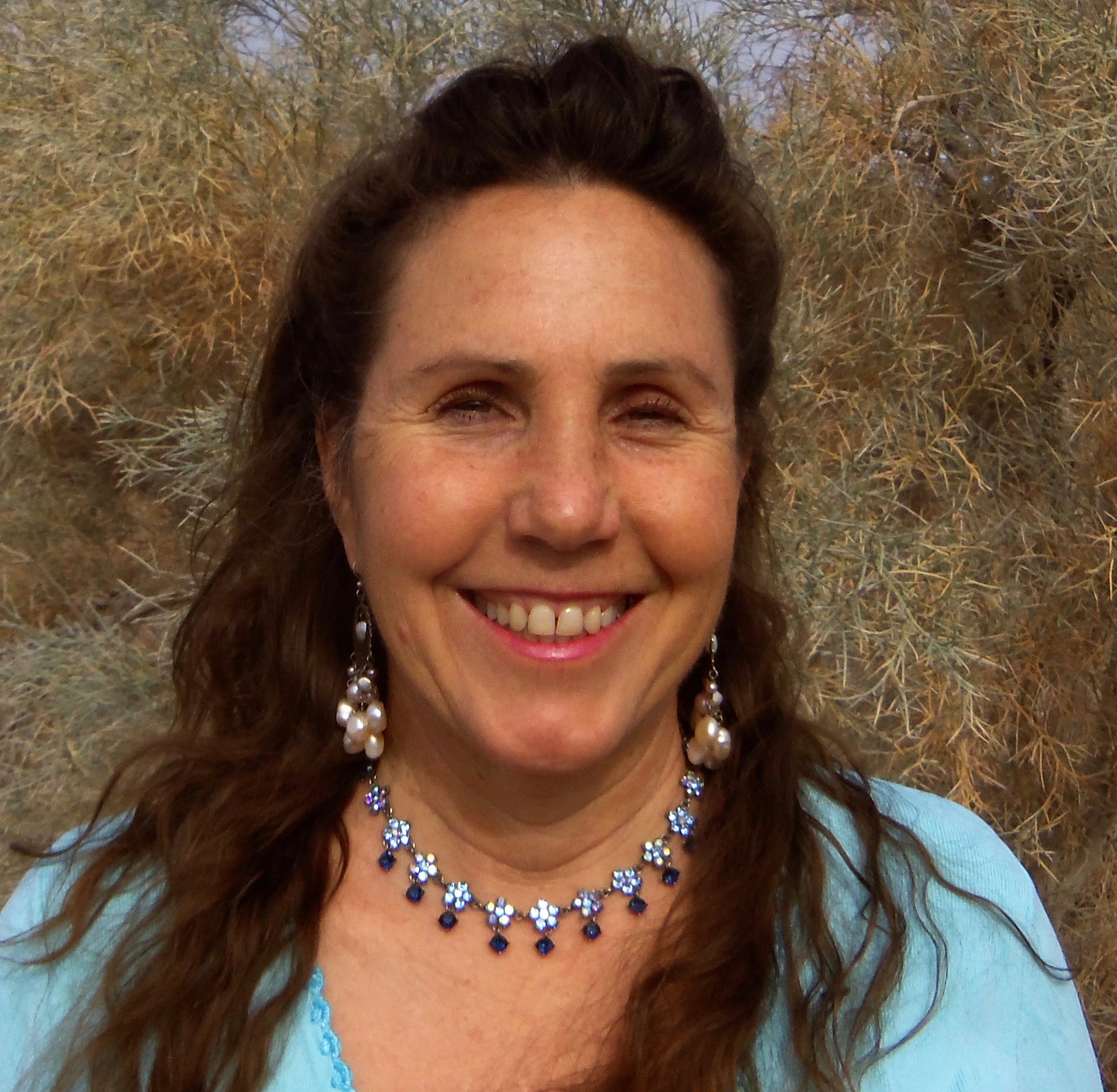 Register: Vocal Sound Touch Healing Private Session
Schedule a private session now: gwendolyn@vocalsoundhealer.com, or text/call: (520) 904-2043