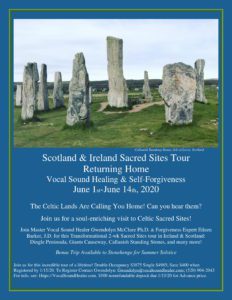 Vocal Sound Healing & Self-Forgiveness Celtic Lands Tour. Join Gwendolyn in 2020 for her 2nd Sacred Sites Tour of Ireland and Scotland this time joined by co-leader & Forgiveness Expert Eileen Barker, J.D.
This tour will be filled with song, ceremony, and healing circles of forgiveness lead by both Gwendolyn and Isis. We travel to amazing Sacred Site Locations to create magic, music, and transformation!
We take you to Sacred Stone Circles outside of Dublin in Bray Ireland where we visit the famous Stone Tower of Glendalough, then travel to Killarney region and to the Kenmare Stone Circle & Innisfallen Island. From there we journey to the famous Poulna brone Dolmen of the Burren, to the Sacred Umbilicus of Ireland for a tour with Marty Mulligan at Hill of Uisneach, and finishing Ireland with the incredible Giants Causeway of Boyne Valley.
The second half of the tour occurs as we traverse over the Irish Sea on a luxury Ferry line to Scotland where we take a boat tour of the amazing Loch Lomond, travel to sites in Inverness and the Highlands, ferry over to the Isle of Lewis for 2 nights to heal with the Callanish Standing Stones pictured on this Event page, then journey to Edinburgh and surrounding healing sites.
The trip begins in Bray, Ireland outside Dublin the morning of June 1st, and ends in Edinburgh June 14th.
POST- TOUR TRIP OPTIONS: You will have the option of adding on a 2-day journey to the exquisite Findhorn Community of Scotland, in addition to the option of participating in a Summer Solstice 4-Day Healing Ceremony and Journey to Stonehenge and Glastonbury. The prices of these options will be posted shortly.
You are responsible to arrive in Ireland in Bray for the start of the Tour. All Lodging and Guided Tour Bus Transportation and Daily Breakfasts are included in the tour price. You are responsible for all other meals, Tips, and your Trip Travel Insurance.
Double Occupancy price is $3875 & Single Occupancy is $4985. Early Bird pricing is $400 off if registered with a $500 deposit by 1/15/20. All fees are non-refundable unless Tour is cancelled.
Contact Gwendolyn for questions or to register: (520) 904-2043; Gwendolyn@vocalsoundhealer.com. Register today using Venmo, Zelle, or Paypal.
You are responsible for your own airfare to Ireland. Aer Lingus is running an exceptional sale until March 2020, and I strongly suggest checking out their prices.
Check out Facebook Event post here: https://www.facebook.com/events/554719918599681/