Dear Folks, As the Saturday March 31st Vocal Rising Day Retreat was SO successful, people asked for more!!
Join us this Saturday April 7th from 12-5pm to experience another connection to your voice, to mother nature, and to your deepest most intimate healing with master vocal sound healer Dr. Gwendolyn McClure!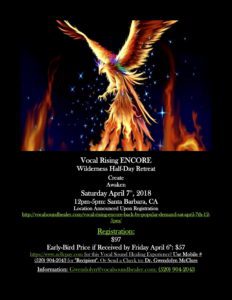 In this intensive Vocal Sound Healing Day Retreat,
We Vocalize, Draw, Move, Review, Release, and RISE
Easy Terrain Walking up to 100 yards will be required.
Items to Bring:
Mat, Beach-blanket, pillow, hat, camp chair, sunglasses, water, sunblock, comfortable shoes & sack lunch
 Registration Fee: $97 
Early-Bird Price Received by March 26th: $57
Use Mobile # (520) 904-2043 for "Recipient: Wendy McClure" To pay via Zelle, you must "Add" "Wendy McClure" with the mobile number above as a Zellepay recipient on your phone/computer
Questions? Reach out to Gwendolyn here: Gwendolyn@vocalsoundhealer.com/
OR Give a Call: (520) 904-2043
Gwendolyn is in her 28th year as a Vocal Sound Healing Practitioner