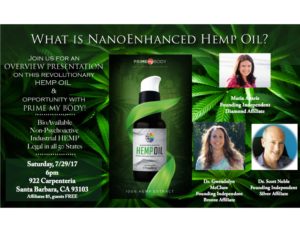 Come join Diamond Affiliate Maria Aparis, and Silver Affiliates Dr. Gwendolyn McClure and Dr. Scott Noble in sharing this beautiful Hemp Oil to the community.
This is my very first public presentation since joining Prime My Body Hemp Oil in May of this year. The company is only 9 months old, and they have the very best hemp oil on the planet, and come here why! And come to try the oil.
Why am I involved? I believe this hemp oil is the best and I feel very strong and good on this oil. With .002% THC, there is no psychoactive/ "HIGH" component, only the HEALING effects of Cannabidiol (CBD). It is FDA Approved and legal to ship in all 50 states. I am a distributor, and proud member of this company.
Location: Noble Wellness Center, 922 Carpinteria St. in Santa Barbara
When: 6:00-8:00 pm
What: FREE Information presentation on Hemp Oil, Free Sample available
Questions? Call or text me at 520.904.2043