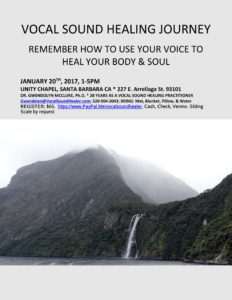 Some brave souls who are called will come to my Vocal Sound Healing workshops neet week in Santa Barbara and Ojai CA, areas recently ravaged by devastating wildfires, floods, and mudslides. You can come and stay at the surface and be unconditionally loved, or you can enter your own depths…. experience the well of grief therein, release this pain with vocal sound & song, and be held with unconditional love.
When tragic events happen, we can follow the wisdom path of all indigenous cultures and use our own Voices to tap into this wellspring of grief….use the current tragedy to open to the pool of pre-existing sorrow, and once there, use vocal sound release and song to clear that pain, and through that clearing, return to the core soul essence of who we each are: LIGHT, LOVE and JOY. We will be singing this song:
"Return Again, Return Again, Return to the Land of Your Soul. Return Again, Return Again, Return to the Land of Your Soul. Return to What You Are, Return to Who You Are, Return to Where You Are, Born and Reborn Again. Return Again, Return Again, Return to the Land of Your Soul."
It is your birthright to use your own Voice to both feel and clear grief and pain, and reconnect to  your Inspiring Light. My doctoral dissertation is based upon every continent's indigenous people's practices of using vocal sound in ceremony for millennia. It is now time to remember. To come together and create modern day ceremony to claim our Voices and Remember how to heal by connecting to, as Native American author Martin Prechtel would say, our "Indigenous Soul."
African Dagara Village Elder and author Malidoma Some says about his Village Funeral Ceremonies: "We have singers there to pierce the hearts of those listening so they can tap into their own well of grief and release the tears."
If we truly empathically connect with, or have experienced first hand these fires and mudslides, we can feel the enormous fear and terror associated with these ravages. The sacred ceremony of Vocal Sound Healing Release assists us to transform this fear, release this terror, clear these wounds, surrender to the tears which flow out the old griefs buried in one's heart, and allow Sound and Song to find the light of the rainbow within your soul after the storm.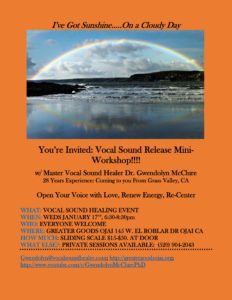 We will be singing this song: "Flowin Like a River Like a River to the Sea, Love Flows Through You and it Flows Through Me, Down to the Sea, Down to the Sea." Will you add your voice to the healing chorus?
Ojai Weds Jan 17th 6:30-8:30pm @ Greater Goods Ojai 145 W. El Roblar Dr. Sliding Scale $15-$50.
Santa Barbara Sat. Jan. 20th 1:00-5:00pm, Unity Chapel 227 W. Arrellaga $65. Sliding Scale Available upon request. See email and Facebook links below.
Bring blanket, mat, pillow, and water, and any sacred item for the altar, Pay at the door, or online via the PayPal link listed below.
See you Soon! Love and Healing Song, Gwendolyn
https://www.PayPal.Me/vocalsoundhealer; gwendolyn@vocalsoundhealer.com; https://www.facebook.com/vocalsoundhealer/