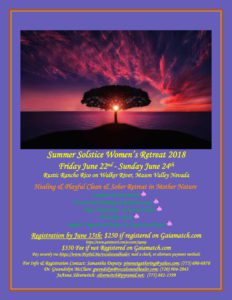 At this healing and playful clean and sober RUSTIC women's retreat, we will celebrate Summer Solstice, sing, dance, create art, do yoga and belly dancing, eat life-giving and delicious foods, and heal our souls in connection with Mother Earth! Prepare for your transformative Re-Birth!!
Gwendolyn, JoAnna, and Samantha lead this loving and sacred Retreat! Gwendolyn has been facilitating retreats, workshops and private sessions for 28 years, and is a master vocal sound healer. JoAnna has been leading Sacred Circles of Women for over 30 years, Recovery and Reclaiming the Goddess! This retreat is Samantha's brain/heart-child, and this is our 2nd Annual Women's Retreat of Creative Sister Collaboration!
Prepare for an infusion of deep soulful loving connection to yourself, Mother Earth, and a tribe of Goddesses for this incredible weekend journey at a very affordable price!
REGISTRATION DUE BY JUNE 15TH!! This rustic retreat is $250 if you register with Gaia Match: https://www.gaiamatch.com/account/signup. The Retreat is $350 if you do NOT register with Gaia Match.
RV and car/van-camping is available.
The Retreat includes all meals starting with dinner at 5pm Friday June 22nd and ending with lunch Sunday June 24th. All workshops and offerings within the retreat are part of the retreat cost.
If you would like to see & share the VocalSoundHealer FB Event page for this Retreat, check out this link: https://www.facebook.com/events/691525504572364/
REGISTRATION: The Retreat Fees can be paid electronically to Gwendolyn by bank, debit card, or credit card(with a 3% charge) via Venmo: https://venmo.com/Wendy-McClure-1; OR, via Gwendolyn's PayPal page: https://www.PayPal.Me/vocalsoundhealer, or by sending a land mail check to Samantha Deputy or Gwendolyn. Contact Samantha for the address when ready to register! Remember, if you want to get the lower rate, you must register with Gaia Match first: https://www.gaiamatch.com/account/signup Once we confirm that you are registered on GaiaMatch, we will accept the discounted Registration fee.
For questions and further information, please contact either Samantha Deputy: pinenutgathering@yahoo.com; (775) 690-0870; JoAnna Silverwitch: silverwitch@pyramid.net; (775) 882-1599; OR, Dr. Gwendolyn McClure: gwendolyn@vocalsoundhealer.com; (520) 904-2043
For those who want to know geographical details, the address of the retreat is: 156 East Walker Road, Yerington, NV 89447.