Gwendolyn is coming to the S.F. Bay Area from June 2nd to June 6th!!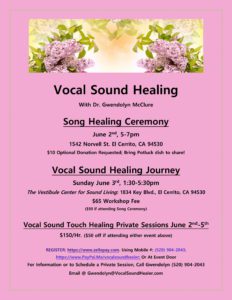 Join Gwendolyn for a Song Healing Circle on Saturday June 2nd, 5-7pm at 1542 Norvell St. in El Cerrito! Each person will receive individual songs from Spirit through Gwendolyn to assist them on their healing journey! Bring a potluck dish to share. $10. donation requested
On Sunday June 3rd, 1:30-5:30pm, you are welcome to partake in a group Vocal Sound Healing Journey! On this journey you are guided to connect with your body, and to Mother Earth, and to open and release your voice as it connects to the depths of your Being for profound Healing! $65. fee; $50 if you attend the Song Healing Circle Saturday June 2nd
From Saturday June 2nd-June 5th, partake in an outstanding journey into your own soul's depths with a private Vocal Sound Touch Healing Session with Gwendolyn! Sessions are $150/Hr. Take $50 off if you attend either the Song Circle or the Journey workshop!
https://www.facebook.com/events/358140254708793/
REGISTER:https://www.zellepay.com. Using Mobile #: (520) 904-2043; https://www.PayPal.Me/vocalsoundhealer; Or Register At Events
For Information or to Schedule a Private Session, Call Gwendolyn (520) 904-2043; or Email: Gwendolyn@VocalSoundHealer.com