Women Singing & Vocal Sound Healing
A Monthly Group led by Dr. Gwendolyn McClure, Vocal Sound Healer
October 2018-March 2019
6 Saturdays, 3:00-5:00pm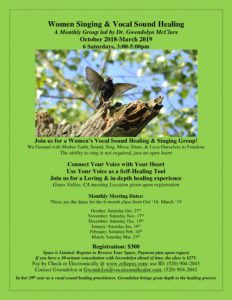 Join us for a women's vocal sound healing & singing group
Open to your Heart, your Mystical Multi-dimensional self, and the Ground of Mother Earth
The ability to sing is not required; just an open heart
Bring a mat, blanket & pillow to class!
Location: Grass Valley, CA.  Address given upon registration
You will experience both passive and active vocal sound healing. Passive vocal sound healing is when you experience Gwendolyn singing and making vocal sounds to bring in the frequencies of pure love and light. Active vocal sound healing is when you soften your throat, connect your throat to your heart, and activate your voice to become a tool for clearing & strengthening your spirit and body. We will sound together and sing together as women, and create enormous change!
Monthly Meeting Dates:
These are the dates for this Women's Vocal Sound Healing Class:
October: Saturday Oct. 27th
November: Saturday Nov. 17th
December: Saturday Dec. 15th
January: Saturday Jan. 19th
February: Saturday Feb. 16th
March: Saturday Mar. 23rd
Registration for this 6-Month Group is: $300.
Space is Limited: Register to Reserve Your Space. Payment plan available upon request. Discount available if you have a 30-minute consultation with Gwendolyn before class begins. 
Register by Check or Electronically using these options:
1) https://www.zellepay.com use ID#: (520) 904-2043; it is listed under my legal first name "Wendy" McClure
2) If your bank does not use Zellepay, send the Registration Fee electronically via Venmo: https://venmo.com Use ID info: @Wendy-McClure-1.
3) If registering via a check, please send to Dr. Gwendolyn McClure 2036 Nevada City Hwy. #605 Grass Valley, CA 95945
In her 29thyear as a vocal sound healing practitioner, Gwendolyn brings great depth to the healing process
See the VocalSoundHealer Facebook Event post here: https://www.facebook.com/events/237091100314051/