Join us for a beautiful evening Monday night Oct 30th of Vocal Sound Healing & Hemp Oil Tasting @ 6:30pm at 2553 Mesa School Lane Santa Barbara, CA 93109!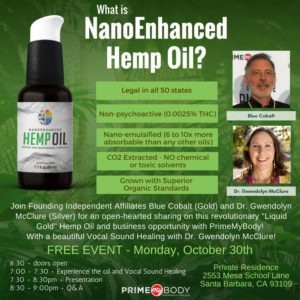 Cannabidiol is making massive waves in the world of health & wellness. Nano-Enhanced Hemp Oil is the most bioavailable formulation on the market, delivering the countless benefits of cannabidiol within minutes of ingestion.
Join Founding Independent Affiliates, Dr. Gwendolyn McClure, and Blue Cobalt for an open-hearted Vocal Sound Healing experience, and a sharing of this revolutionary "Liquid Gold" Hemp Oil and business opportunity with PrimeMyBody!
FREE EVENT
6:30 – doors open
7:00 – 7:30 – Experience the oil and Vocal Sound Healing
7:30 – 8:30pm – Presentation
8:30 – 9:00pm – Q&A

Come and bring your friends!
Nano-Enhanced Hemp Oil is:
– Legal in all 50 states
– Non-psychoactive (0.0025% THC)
– Nano-emulsified (6 to 10x more absorbable than any other oils)
– Grown with European Organic Standards
– CO2 Extracted – NO chemical or toxic solvents
FREE for guests!