On Wednesday evening August 22nd Gwendolyn will be offering a workshop at Phoenix's "Storm Wisdom: A Center For Intentional Living" at 3375 E. Shea Blvd, Ste A-1. Will you join us?!! The link to register is:
https://stormwisdom.com/upcoming-events/?mode=day&date=1534316400
In this evening workshop, you will be guided by Master Vocal Sound Healer Gwendolyn to explore the use of your voice for healing all aspects of your Being. You will be guided to connect with your Heart and with the true Light & Love you are.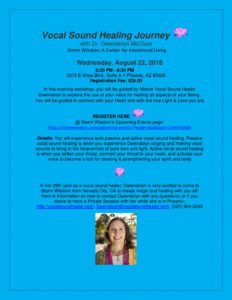 You will experience both passive and active vocal sound healing. Passive vocal sound healing is when you experience Gwendolyn singing and making vocal sounds to bring in the frequencies of pure love and light. Active vocal sound healing is when you soften your throat, connect your throat to your heart, and activate your voice to become a tool for clearing & strengthening your spirit and body. You will be guided in how to use your voice to clear pain and lower frequency emotions, and claim yourself as the source of unconditional love.
WILL YOU JOIN US?!  Come take the next step on your Spirit's Journey!! You can see the FB event post for this workshop here: https://www.facebook.com/events/1729998583764005/
In her 29th year as a vocal sound healer, Gwendolyn is very excited to come to Storm Wisdom from Nevada City, CA to create magic and healing with you all! Here is Information on how to contact Gwendolyn with any questions, or if you desire to have a Private Session with her while she is in Phoenix: https://vocalsoundhealer.com; Gwendolyn@vocalsoundhealer.com; (520) 904-2043
Tickets for this evening of vocal sound healing can be found here: https://www.facebook.com/events/1729998583764005/
We would just LOVE to have you join us!! Love, Gwendolyn