The new date for this concert is Sunday Oct. 21st! Thank you!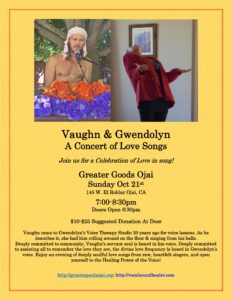 Dear Friends, please join us for this revised date of Sunday Oct. 21st!
Vaughn Montgomery and Gwendolyn McClure giving a concert of Love Songs!
Nat King Cole, Loggins and Messina, Stevie Wonder, Kate Wolf, Vaughn's original songs, Joni Mitchell, etc.
Vaughn became Gwendolyn's Voice student 20 years ago. Her non-traditional approach appealed to his non-traditional soul. A professional musician, recording engineer, and community event center proprietor, Vaughn brings deep heart and soul to his vocal and piano renditions of original and cover songs.
Performing since she was 8 years old, Gwendolyn studied voice with a Juliard graduate for six years in New York, and founded her Vocal Sound Healing practice in 1990. She completed her Clinical Psychology PhD dissertation on this topic at Pacifica Graduate Institute in 1998.
https://www.facebook.com/events/1840056662788681/
The Suggested Donation is $10-$25 dollars. Cash, check and credit card accepted at door.