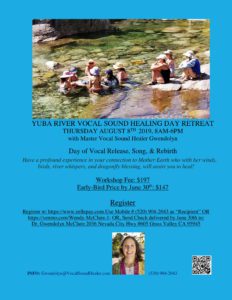 You are all welcome to join us for the 5th Annual Yuba River Vocal Sound Healing Day Retreat! We do some beautiful and deep healing in a gentle way by the river with art and vocal release and song, building community and resonance!
The day retreat fee includes an introductory 1.5 hr optional workshop Aug. 7th at 7:30pm at Harmony Ridge Lodge's Great Room where we will sing, ground, and prepare for the next day's adventure.
Lodging is available for everyone at the beautiful Harmony Ridge Lodge. Book ahead by calling (530) 478- 0615, or contacting: stay@harmonyridgelodge.com.
Gwendolyn has been a vocal sound healing practitioner for 29 years, wrote the first doctoral dissertation in the world on the topic (Pacifica, 1998), and has the same fire and passion to bring healing through passive and active vocal sound as she did at her first workshop in Isla Vista, CA Aug. 5th, 1990
To learn more about Gwendolyn, go to https://vocalsoundhealer.com, or contact her directly at Gwendolyn@vocalsoundhealer.com; (520) 904-2043.
Private vocal sound touch healing sessions are available before and after the retreat. The last two years, people came in for this day retreat from as far away as Chicago, and you'll see why! I look forward to you joining us!!
Register early for $147 via Venmo, check, Zelle, or paypal: 
or via a check by 6/30 sent to Gwendolyn McClure at 2036 Nevada City Hwy. #605 Grass Valley, CA 95945