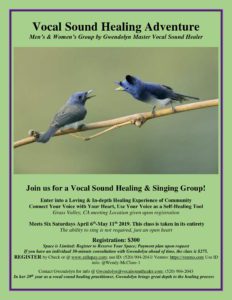 Join us for a Vocal Sound Healing & Singing Group!
Enter into a Loving & In-depth Healing Experience of Community. Connect Your Voice with Your Heart, Use Your Voice as a Self-Healing Tool.
Be in a place of such deep safety and unconditional love that the blocks to free-form sounding and singing with your voice melt away, and you experience Divine unconditional love frequencies!
Meets Six Saturdays April 6th-May 11th 2019. This class is taken in its entirety. The ability to sing is not required, just an open heart
Grass Valley, CA meeting Location given upon registration
Registration: $300. Space is Limited: Register to Reserve Your Space; Payment plan upon request.
If you have an individual 30-minute consultation with Gwendolyn ahead of time, the class is $275.
REGISTER: http://By Check or @ www.zellepay.com; use ID: (520) 904-2043/ Venmo:Use ID info: @Wendy-McClure-1. Send check by April 2nd to:
Dr. Gwendolyn McClure
2036 Nevada City Hwy. #605
Grass Valley, CA 95945
Contact Gwendolyn for info @ Gwendolyn@vocalsoundhealer.com; (520) 904-2043
In her 29th year as a vocal sound healing practitioner, Gwendolyn brings great depth to the healing process
Facebook Event post here: https://www.facebook.com/events/2212542385672268/