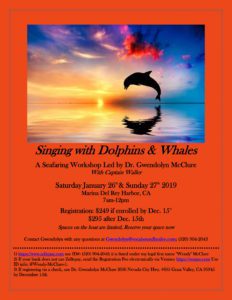 As it seems like we could all use some dolphin and whale love at this time, I'm presenting a seafaring workshop whereby we will go out to sea off the Marina del Rey Harbor in greater Los Angeles CA, and spend intimate time singing to the dolphins and whales during the peak season of whale migration on two dates: Saturday Jan. 26th and Sunday January 28th.
Spaces are very limited on the boat, so reserve your space soon, and come join us for a trip of a lifetime! Check out the FB event post here: https://www.facebook.com/events/552122685201534/
Contact Gwendolyn with any questions at Gwendolyn@vocalsoundhealer.com;     (520) 904-2043
To register for what will be an epic workshop guided by Captain Waller, see below:
1) https://www.zellepay.com use ID#: (520) 904-2043; it is listed under my legal first name "Wendy" McClure 
2) If your bank does not use Zellepay, send the Registration Fee electronically via Venmo: https://venmo.com Use ID info: @Wendy-McClure-1. 
3) If registering via a check, use Dr. Gwendolyn McClure 2036 Nevada City Hwy. #605 Grass Valley, CA 95945 by December 15th