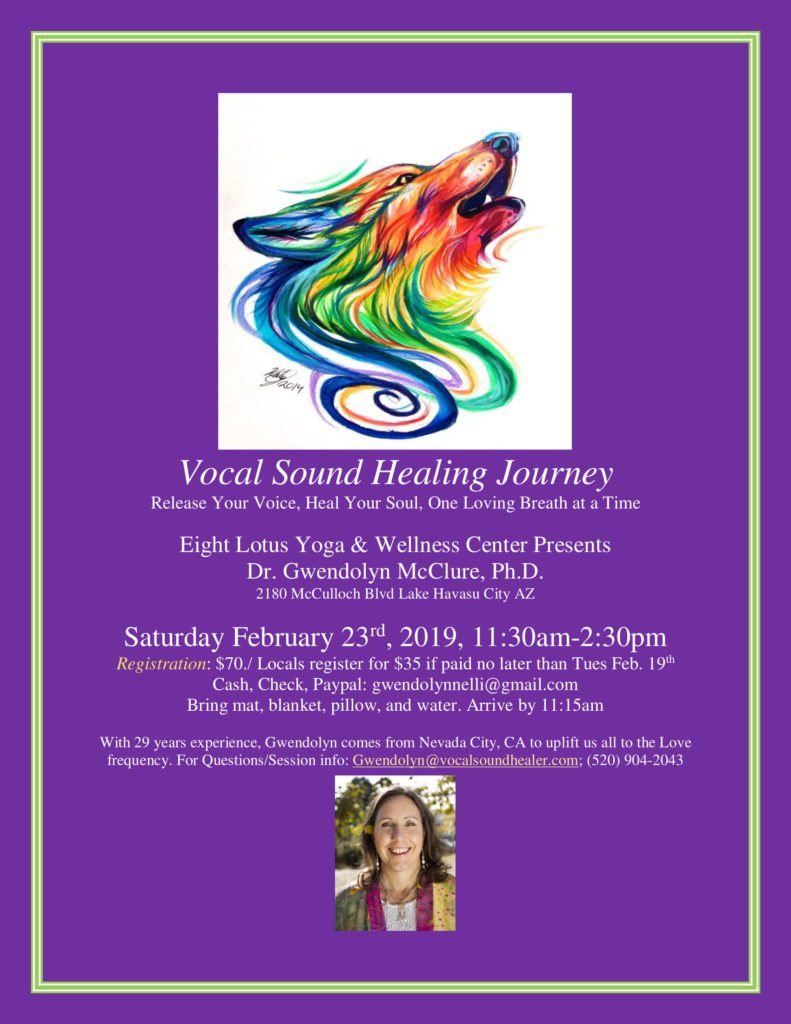 First stop on Gwendolyn's 2-week SW tour, please join us in Lake Havasu City at Liezl's beautiful Eight Lotus Wellness Center for this beautiful time together of love, support, clearing, and uplifting energies.

Explore how to use the human voice to connect with the deeper levels of your Soul!

Release Your Voice, Heal Your Soul, One Loving Breath at a Time

Workshop price is $35. for Locals if paid in full by Tues Feb. 19th. $70 Door. If mailing a registration check, send to: Eight Lotus Wellness 2180 McCulloch Blvd Ste. 102 Lake Havasu City, AZ 86403

Find us Saturday February 23rd at 11:15am at:
Eight Lotus Yoga & Wellness Center 2180 McCulloch Blvd Lake Havasu AZ

Saturday February 23rd, 2019, 11:30am-2:30pmRegistration: $70./ Locals register for $35 if paid no later than Tues Feb. 19th:
Cash, Check, or https://www.PayPal.Me/vocalsoundhealer

Bring mat, blanket, pillow, and water. Arrive by 11:15am

With 29 years experience, Gwendolyn comes from Nevada City, CA to uplift everyone to the frequency of Love.

For Questions/Session info: Gwendolyn@vocalsoundhealer.com; (520) 904-2043

Gwendolyn wrote the first doctoral dissertation in the world on this topic entitled: "A Cross-Cultural Interdisciplinary Study of the Healing Power of Singing & Vocal Sounding" (Pacifica 1998). To learn more about her work, visit: https://vocalsoundhealer.com.
https://www.facebook.com/events/369645767195705/