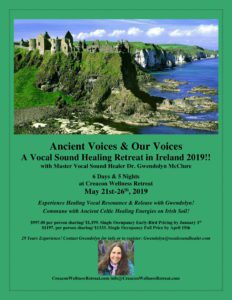 6 Days & 5 Nights at Creacon Wellness Retreats May 21st – 26th, 2019 
Experience Healing Vocal Resonance & Release with Master Vocal Sound Healer Gwendolyn!
Commune with Ancient Celtic Healing Energies on Irish Soil!
I am so excited to offer this inaugural Vocal Sound Healing excursion to New Ross County Wexford Ireland next Spring!
We will be hosted by Creacon Wellness Retreats, 2.5 hours from Dublin, with healthy organic meals 3x/day, trips to local sights, vocal sound healing events, and an opportunity to experience vocal release and song on Irish soil!
The Retreat price below includes a group Round-trip shuttle ride from Dublin Airport to Creacon Wellness Retreat. Individuals are responsible for Airfare and arriving in time to catch the group shuttle out of Dublin to County Wexford's Creacon Wellness Retreat.
REGISTRATION:
$1197. per person sharing/ $1333. Single Occupancy: Full Price by April 15th, 2019
$997.00 per person sharing/ $1,199. Single Occupancy: EARLY BIRD by Jan. 1st 2019
These prices include the shuttle trip from Dublin airport to Creacon Wellness Retreats, and any local excursions. Classes other than Gwendolyn's you choose to take at Creacon Wellness Retreats will be at your own cost. You are responsible for your own airfare to Dublin Airport.
HOW DO I REGISTER FOR THIS VOCAL SOUND EXPERIENCE IN IRELAND! 
Send Registration payment either electronically or by check:
https://www.zellepay.com; Use ID #: 520-904-2043; OR, Send a Check to:
Dr. Gwendolyn McClure 2036 Nevada City Hwy #605 Grass Valley CA 95945
If your bank does not use Zellepay, you can send the Registration Fee via Venmo: https://venmo.com; Use ID info: @Wendy-McClure-1
Contact Gwendolyn for info on how to register: Gwendolyn@vocalsoundhealer.com; (520) 904-2043
CreaconWellnessRetreat.com