Women Singing & Vocal Sound Healing
A Monthly Group led by Dr. Gwendolyn McClure
October 2018-March 2019
6 Saturdays, 3:00-5:00pm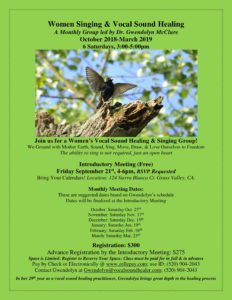 Join us for a women's vocal sound healing & singing group
Open to your Heart, your Mystical Multi-dimensional self, and the Ground of Mother Earth
The ability to sing is not required; just an open heart
Introductory Meeting (Free)
Friday September 21st, 4-6pm
Bring Your Calendars!
Location: 124 Sierra Blanca Ct. Grass Valley, CA.
You will experience both passive and active vocal sound healing. Passive vocal sound healing is when you experience Gwendolyn singing and making vocal sounds to bring in the frequencies of pure love and light. Active vocal sound healing is when you soften your throat, connect your throat to your heart, and activate your voice to become a tool for clearing & strengthening your spirit and body. We will sound together and sing together as women, and create enormous change!
Monthly Meeting Dates:
These are suggested dates based on Gwendolyn's schedule
Dates will be finalized at the Introductory Meeting Sept. 21st
October: Saturday Oct. 27th
November: Saturday Nov. 17th
December: Saturday Dec. 15th
January: Saturday Jan. 19th
February: Saturday Feb. 16th
March: Saturday Mar. 23rd
Registration for this 6-Month Group is: $300.
Advance Registration by the Introductory Meeting: $275.
Space is Limited: Register to Reserve Your Space. Must pay for entire series in advance
Pay by Check or Electronically @ www.zellepay.com; use ID: (520) 904-2043
Contact Gwendolyn with questions at Gwendolyn@vocalsoundhealer.com; (520) 904-2043
In her 29thyear as a vocal sound healing practitioner, Gwendolyn brings great depth to the healing process
See the VocalSoundHealer Facebook Event post here: https://www.facebook.com/events/237091100314051/